The front door to one's home is definitely the best opportunity to express a sense of personality, as well as offering a focal point to the rest of the home. Curb appeal can improve the value of your house, as well as develop the ambience for those who inhabit it. Not only does the front entrance inspire and enchant, it provides an alluring and enthralling architectural feature.
To offer a few demonstrations, and hopefully inspire your home renovation, we've collated 15 of our favourites. These examples are sure to be a huge source of inspiration, and we hope you enjoy checking them out below!
1. Our first example employs steel, as it is stronger than fibreglass or timber, offering security and an indestructible aesthetic
2. Next up we take a peek at a gorgeous and elegant timber entrance. This is sure to boost your home's impressiveness, while offering a long lifespan thanks to its safe and weather-resistant material
3. Latticework provides security and style, while filtering light to create interesting shapes and shadow forms
4. Ideal for small facades, this combination of textures offers stone, metal and timber, which is unique and full of personality
5. Avoid a front fence to ensure your dwelling is an eye-catching focal point within the streetscape
Do you need assistance planning your new home or its entrance? Chat to a professional via the homify website and get started with some expert advice today!
6. Neutral tones have been incorporated into this modern façade, which offers a small front garden and highlights the organic nature of the entire structure
7. If you want to make a statement, this timber and concrete entrance is attention-grabbing and strong, yet still warm and welcoming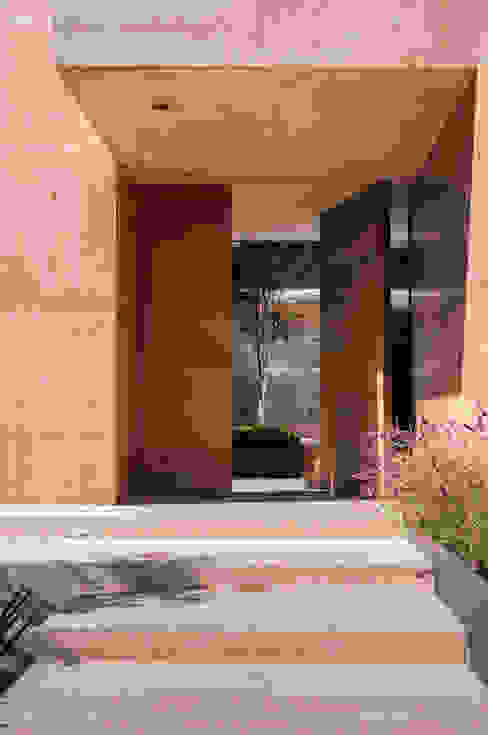 ML Residence
Gantous Arquitectos
8. For privacy that doesn't hinder natural light, you need frosted glass! This entrance is bold and colourful, while feeling impressively natural and convivial
9. Spectacularly original, our next demonstration offers a long pathway until one reaches the gently illuminated metal doorway. Textural and sturdy, this characterful entrance is replete with a host of texture and contrasts
10. Industrial details offer a truly unique design that brings together two contrasting materials: concrete and timber. Bold and dramatic, this is definitely an envy-worthy abode!
11. Glass not only brings in natural light, it helps create the illusion of a larger entrance, adding transparency and an impressive aura
12. Do you want to enhance your existing entrance? Consider a vibrant hue that will unquestionably improve the freshness and dynamism of your dwelling
13. Details make a huge difference in the design of your entrance. Take some cues from this gorgeously neat example and opt for a sophisticated bunch of bright red flowers, and a bold black entrance door
14. Elongating the entrance can make it appear larger and more impressive. This technique has been utilised for this example, which has definitely caught our attention!
15. Finally, we check out a beautiful dark timber door that gives the impression be being embedded in the stone wall. Frosted glass adds a unique touch, and breaks up the hardness of the architectural features
If you'd like some more domestic or architectural inspiration, we recommend: 7 creative ways to style your apartment entrance